On Christmas Eve, I wanted to drive somewhere special, so we took Banjo to the Minor Clark Fish Hatchery for a drive. It was windy, and colder than we had expected so we only drove for an hour. Banjo couldn't have behaved better-he racked steadily along, seeming to skim over the ground. To spare my left arm, I used verbal commands and he obediently turned "left" or "right" at intersections, slowed, stopped, or went faster as I said. I was so grateful not to have use the reins.

Most of the fish breeding ponds had been drained. I would get out of the cart to take pictures, so Banjo would quickly take advantage of the grass.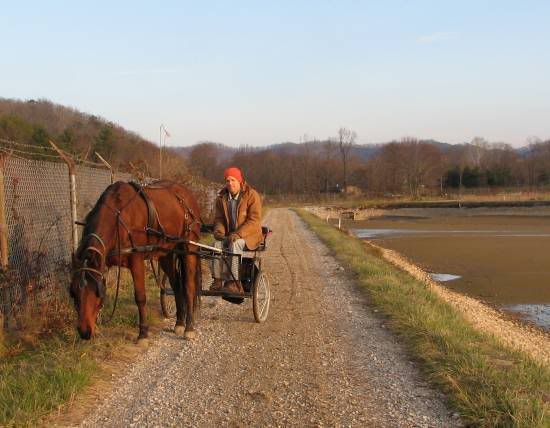 Hunters had been at the fish hatchery that morning, so all we saw were flocks of terrified of Bufflehead ducks taking off from the river at our approach. The Canadian Geese were everywhere but not worth photographing




Christmas day, Jerielle and Jarrod came over in the afternoon, so we opened presents together. George was delighted to get a yo-yo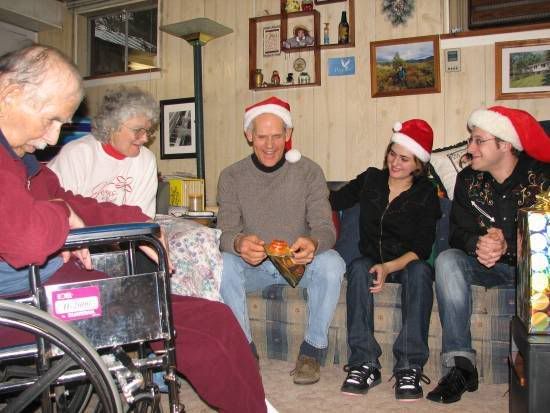 and gave us a trick demonstration. We watched the first season DVD of Meerkat Manor together-it was a Christmas gift from Jarrod. Neither he nor Jerielle had seen the program before, although Ma and I are longtime fans.

The next week, Suzanna called Ma and asked her to pick up Grandmummy's artist easel and my mom's great Aunt Sudie's handmade bed from the 1860s. She was the sister of Aunt Nan of "Aunt Nan's Suitcase" fame.

The story: while they were living in Wilmore, my parents were packing to go to Haiti and visiting Ma's parents. Ma ran of packing space so Grandmummy told her take Aunt Nan's huge 1800s suitcase. When Ma got to Haiti, she kept it in the top of her closet and used it for storage of various odds and ends. Whenever one of us needed anything such as an extra pair of scissors, masking tape, sewing needles, etc., Ma would invariably say, "Go look in Aunt Nan's suitcase." It became the family joke while I was growing up, because, like Mary Poppin's handbag, EVERYTHING seemed to be in "Aunt Nan's suitcase!" We even took it on furlough with us and anytime anyone asked where something was, somebody would say, "Go look in Aunt Nan's suitcase!" Somehow the suitcase stayed in the family through all our travels until it began to fall apart about the time my parents retired.

The Hardins were loading a moving van for their move to Boise, Idaho and Suzanna was dispersing family heirlooms. Ma asked us if we would go get the items, and Jerielle said she would take them, so Thursday, the 28th, we headed to Louisville.

First, of course, we stopped at the Louisville Zoo where I am a member. We only had two hours, so we whisked through our creature rounds, pausing only briefly to see such wonders as a huge, fluffy Siberian tiger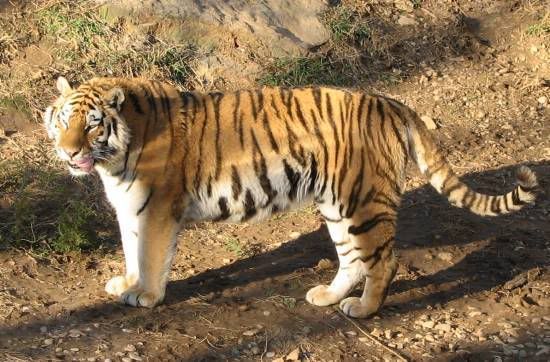 a Wallaby joey sticking its head out of its mother's pouch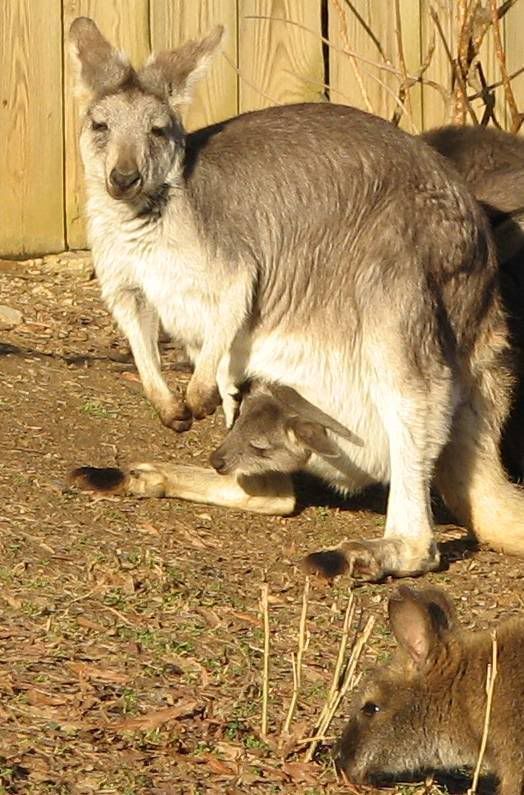 a Chilean Flamingo chick eating with the adults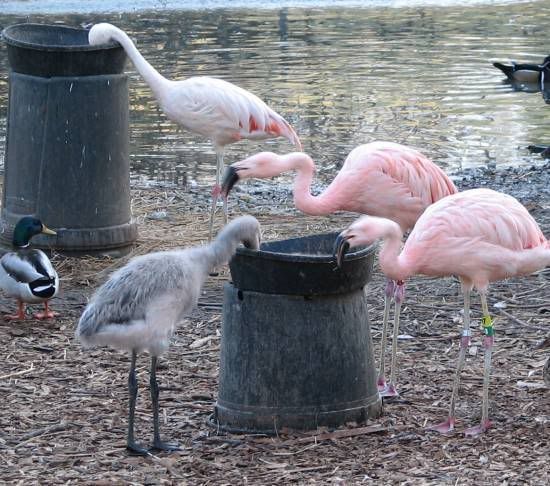 and one of my favorite snakes, the "strikingly" beautiful Gaboon Viper. This species has 3-inch fangs and is especially deadly because they are practically invisible on the jungle floor and too sluggish to move out of the way if someone comes down the trail.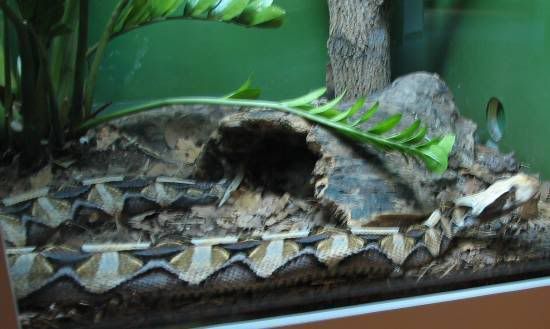 The sun was sinking, and as we scurried past the American Eagle pen we spotted a juvenile Black-crowned Night-Heron in the trees overhead, settling down for the night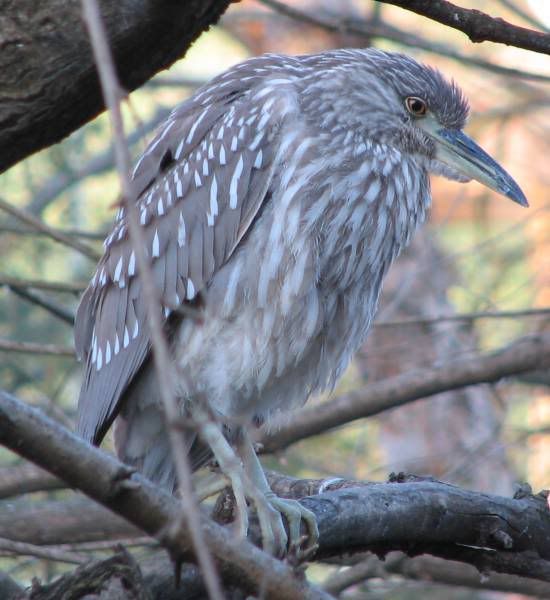 a few trees down from an adult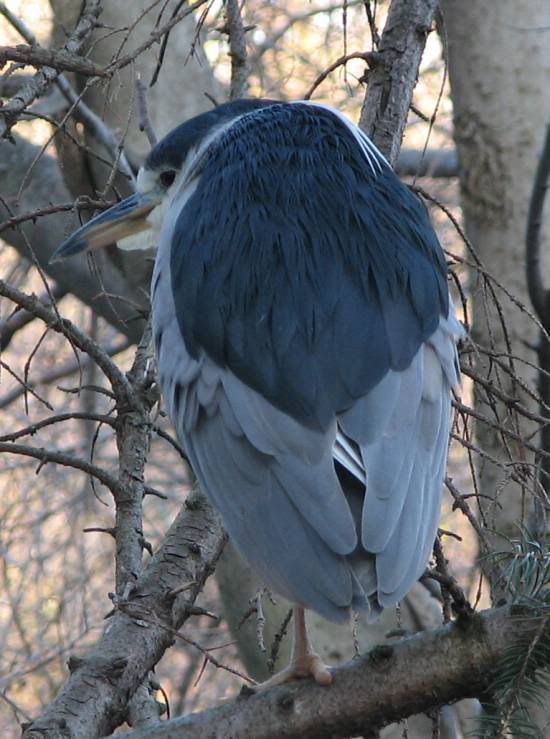 I thought maybe they liked to hang around in hopes of snagging fish scraps.

We arrived at the Hardins, and George finally figured out not only how to fit the bedstead and easel, but an additional antique wash stand, into Ma's little Honda. Jerica and her husband Alan were there helping with the moving. She is expecting-about three months along, and her sister Arianna, in Boise, is due in two weeks.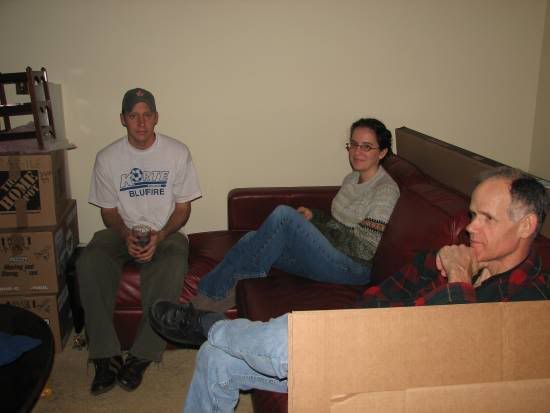 Adam and Alan were outside loading the moving van in the dark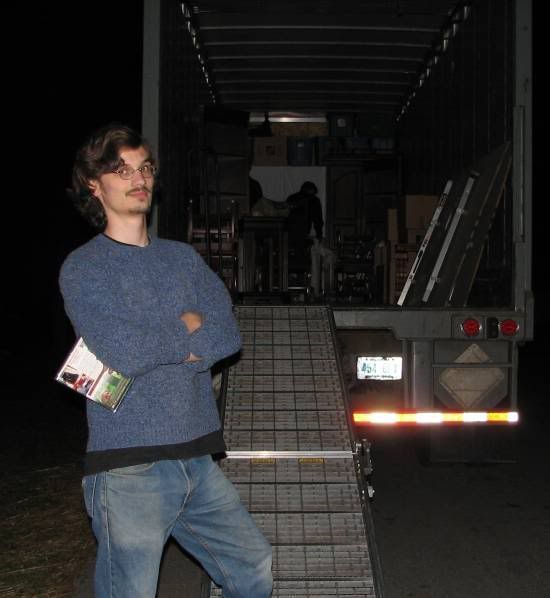 Jerielle drove up from Lexington before we left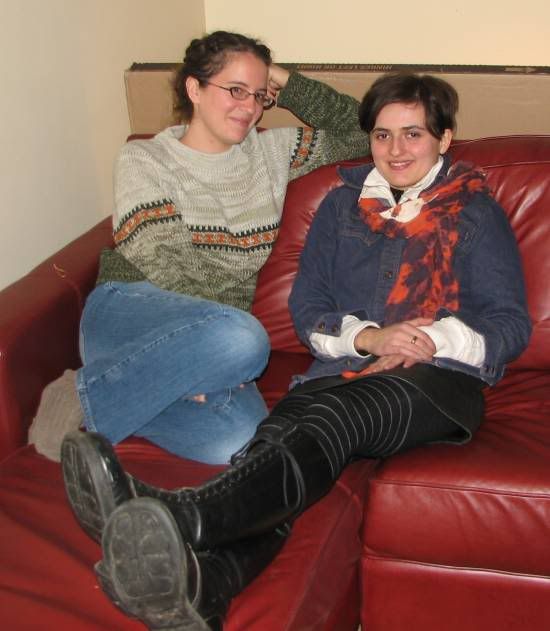 We headed back to Morehead while Jerielle joined the Hardins in going to see The Good Shepherd

The weather was still warm, so we kept on driving the horses in the Daniel Boone Natl forest, even though things looked a bit gray and dismal.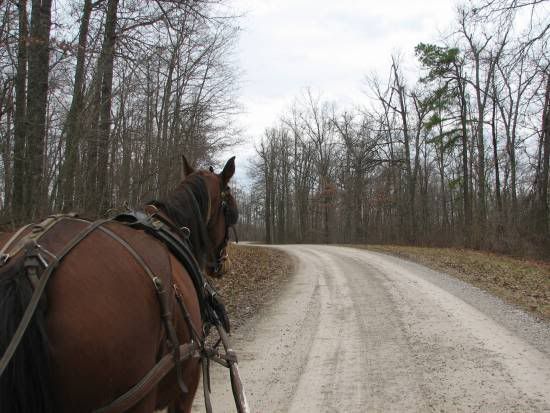 Last time we drove him, Levi tried to turn onto a side road and when I yanked the rein to correct him, it hurt my injured left arm. I decided not drive anymore and handed the reins to George. Levi immediately realized that easy-going George was now in charge and proceeded to act out..several times pretending to afraid of something, swerving, then trying to break into a gallop. George quickly pulled him back down, but it left him a nervous wreck wondering what Levi would do next. I was just grateful I didn't have to hold the reins.

Levi is usually such a perfect driving horse for me and almost never spooks, so I knew he was pretending, but he can be a brat when he thinks he can get away with it, despite his innocent face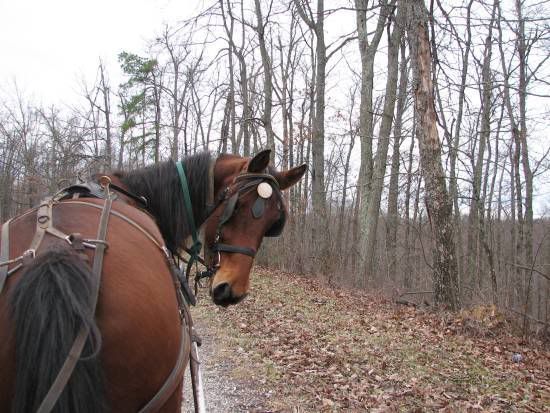 All that rowdiness though, made me think about maybe selling the big Tennessee Walkers and getting some of the small, intelligent, unflappable Icelandic horses I'd just been reading about in my Trail Rider magazine, and had subsequently looked up online. My little mustang horses in Haiti were so loving, never spooked at anything, and I miss being able to ride bareback. Icelandics would certainly be a lot easier than the Walkers to drive as a team; I doubted I would feel safe driving our two 16 hand horses together; one of them might decide to spook or cut a shine at the wrong time.

Besides, Icelandics, like my Haiti horses, never have to be shod, eat very little, take little room, yet can rack at 25 mph and have legendary endurance. I looked online, and found their prices typically ran $6,000 to $16,000 a horse. Some girl in British Columbia offered to sell me her entire herd of 5 Icelandic horses for $13,000 if I could take them off her hands by Feb., since she had to move. She claims that the stallion is the calmest and most trustworthy horse in the bunch and she used to ride one of the mares in a drill team. A hauler friend of hers offered to deliver them here at $500 a head.

I knew we had too many other fiscal obligations, so I asked Jerielle if she wanted to buy the herd. Theoretically, she could sell the two foals and the stallion's mother, keep one mare to ride, and we could buy the stallion from her later, so Jerielle thought maybe she could get a riding mare "for free."

We could sell the Walkers, use the money to buy another unrelated Icelandic mare I found online for $3000 because she is blind in one eye, and we could both breed our mares to the stallion every couple of years, sell the foals, and still be able to all ride together. Sounds like fun, but since I don't have the money right now to buy them, Jerielle would have to think it worth the money and risk!

Well, New Year's Eve, I had just gotten back from jogging to the top of our mountain when I noticed a cute little Brown Creeper scuttling up the trunk of the Maple tree by the front deck.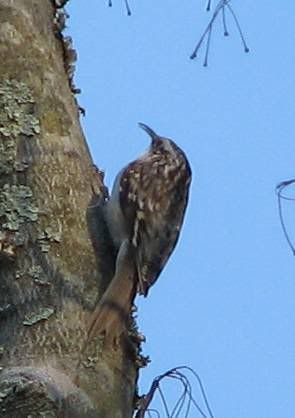 A little later, Marian Giles, now Marian Byrnes, stopped by to see my folks with her "new" husband (of nine years, I think).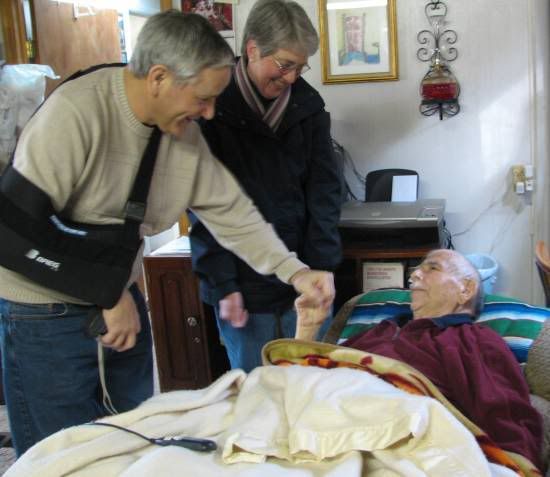 I had previously met him at an OMS convention, and he and Marian are such a blast! Larry first retired from being a teacher, then from being a pastor, then served with Marion under OMS. I knew Marian when she was still Marian Giles in Haiti when I was a teenager. She went with Larry as a missionary to Ireland for five years, and they are currently part of the OMS Associate Central Region staff for northern Indiana.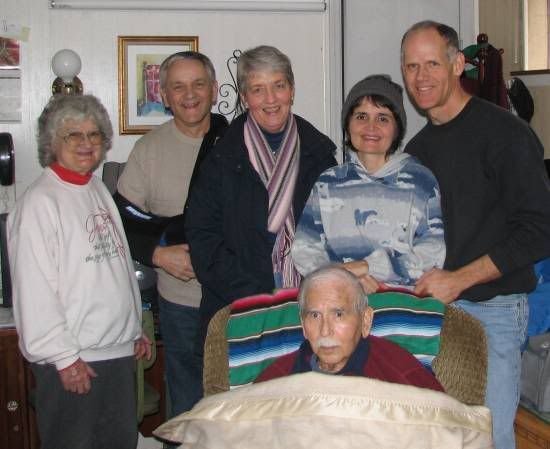 Since they wanted to stretch their legs, I took them outside to see the llama and horses, and while we were gone, the Paula and Jim arrived. They said that Pa was alert and talked to them a little while they waited. They couldn't get over how much better Pa seemed since he started taking the Cho-wa tea a few days before.

Paula and Jim went through a box of our grandparents' old diplomas and licenses to see if they wanted to keep any, since Celia had offered to store them for the great-grandchildren.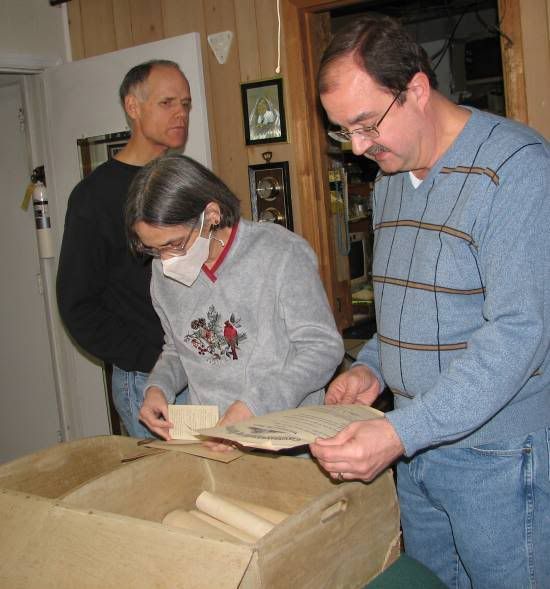 They brought more Christmas gifts, including a movie and some beautiful quilts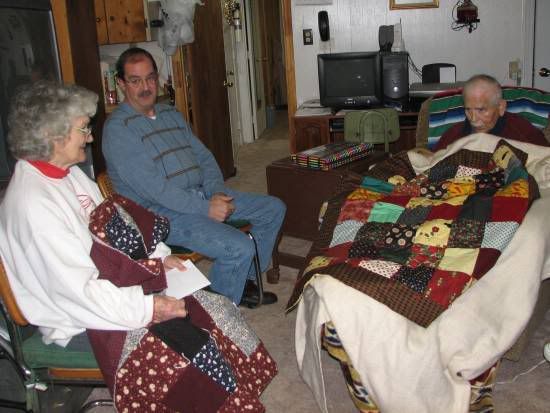 We visited all afternoon before they had to get going. When I took pictures, they protested that they didn't look different from the last time I photographed them, but I said it was for the weblog!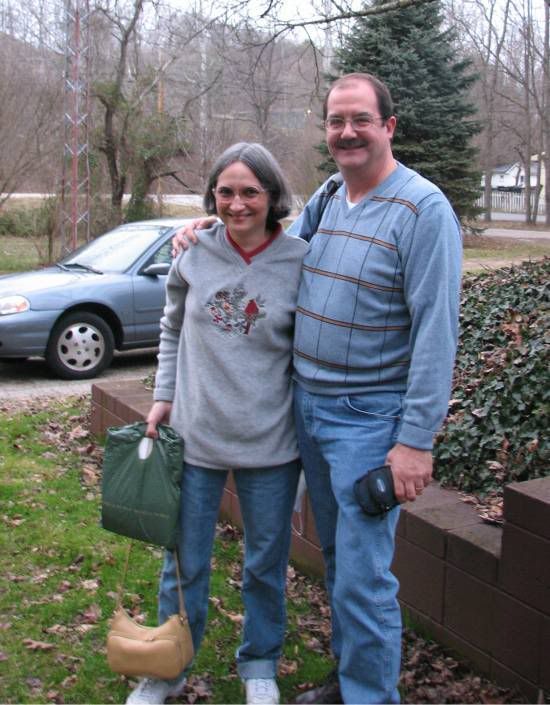 New Year's Eve we watched the Little Miss Sunshine DVD the Hardins had given us for Christmas, read several chapters from a Laura Ingalls book with my folks, danced together to a swing band on KET, then watched the New York City ball drop while we buzzed buzzers and blew noisemakers. Not our usual celebration-last year we went birding in Las Vegas and drove to the Grand Canyon, but maybe we'll do more next year!

Today, Saturday, we decided to go driving in the National Forest first thing, before I had time to do things to make my left arm tired and sore, so George went out to get Banjo while I changed clothes. We drove to the access road and George harnessed Banjo, then I took the reins. As usual, Banjo was so good and careful that I never once had to put pressure on my left arm, but let the reins dangle off my fingers. If I had to give him direction, the slightest vibration on a rein brought instant response.

At first, I tried to guide him through occasional groups of potholes to avoid hitting them, but after few failures and bone-rattling jars, I quickly realized that if would let Banjo do it himself, he would carefully thread his way through the groups of puddles them and miss them all. Skimming over the ground, Banjo quickly made me forget I was driving him at all, and I spent my time chatting happily with George and enjoying the view. Banjo was so good, so obedient, so perfect, that I began to think that it would betray him to sell him.

After all, a new owner might stick him in a dark stall, nail his delicate hooves into heavy padded shoes for showing, and whip or spur him while holding his mouth back with a sharp bit. That is how just about everyone around here treats Tennessee Walkers and such treatment would make Banjo completely freak. But maybe I could get a buyer from out of state-someone who knows to handle a horse on a loose rein and just wants to trail ride. Banjo is so sensitive and high strung that he's great to handle but can also be easily frightened.
At my age, it would be nice to ride and drive a bold, fearless horse like an Icelandic that would never spook at anything. But they are only 13.2 to 14.2.hh (a hand is 4 inches)

Would George feel foolish riding one?

When we got back, George quickly unharnessed Banjo to spare my arm




Banjo was so relaxed he even yawned, which tickled George. It looked as though they were both yucking it up.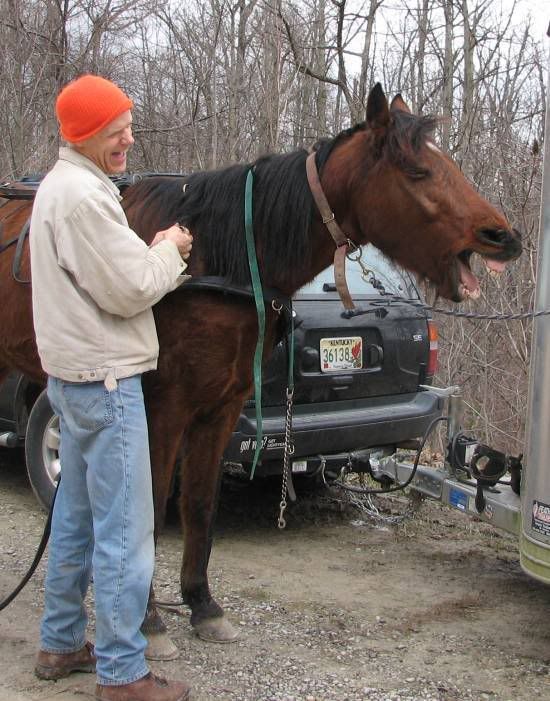 Afterward, I tied Banjo out to graze while George took the cart apart and stored it in the trailer. I then untied Banjo's rope, pointed at the open trailer and told him to "Get in" and he quickly went forward and sprang inside.

He's so good like that!